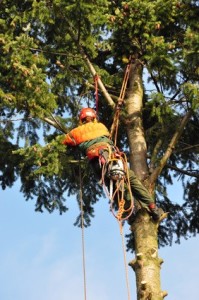 Fast Free Quotes for Tree and Shrub Services in Your Area

Not every tree service company will charge the same amount for the job, so make sure you talk to and get estimates from several local tree companies before you decide who to hire. To get information and quotes from up to four local tree and shrub specialists select from the list below.
Tree and Shrub Services in Your Area
Trim, Repair or Remove | Treat Protect and Maintain | Stump Removal | Landscape Contractors
While ordinary tree and shrub maintenance is something that homeowners often prefer to do themselves, tree removal and tree trimming are best left to local tree experts who have the equipment, skills and experience to do the job safely.
What Are Your Options?
Repair or Remove Damaged Trees and Branches
Since damaged trees are often an accident waiting to happen, calling for tree damage repair is not something you want to put off once a problem is noticed. You'll want an arborist or tree removal specialist to assess the damage and provide a plan to safely trim away damaged branches or safely remove the tree when necessary.
Treat, Protect and Maintain Your Trees & Shrubs
Arborists are professionals trained to care for trees and shrubs by pruning, fertilizing, monitoring for insects and tree diseases, and provide consulting on tree-related issues. You'll want to find a local arborist with a professional affiliation such as Certified Arborist as well as proper state licensing.
Tree & Shrub Trimming and Maintenance
Damaged trees, hedges, or shrubs can ruin an otherwise great looking property and a rotten tree branch can fall onto your car, home or even a family member. Its a good idea to contact a tree and shrub service before this happens.
Tree Stump Removal
Removing a stump from a felled tree is something some homeowners may do themselves but the effort is often greater than what well-equipped stump removal companies charge professionally remove tree stumps. Get stump removal quotes